---
Technology to Help You Drive Smarter
ESCORT Community
With ESCORT radar technology and IVT Filters™ (In-Vehicle Technology), laser shifters, and dash cams, we've designed the most accurate driver alert system in the world. Paired with the power of ESCORT Live, you have the ultimate in driver protection. Our exclusive driving community allows drivers to share and receive real-time alerts through the app or when any ESCORT detector senses a threat.

Drive Smarter
Experience the future of driver awareness.
ESCORT Range
Our high-performance, advanced radar detectors with integrated Digital Signal Processing (DSP) mean maximum range and minimal false alerts. Our community shares over 100 million real-time alerts a year on ESCORT Live, extending your range and protection wherever you drive.
Accuracy
Our patented AutoLearn® feature means the more you drive, the smarter your detector becomes—learning to remember and mute the location and frequency of false alerts. The integrated IVT Filter™ further analyzes signals from in-vehicle technology for maximum accuracy.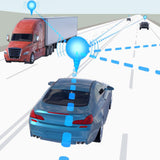 Join The Community
We make the best radar detectors in the world, but nothing is as powerful as ESCORT Live. With the ESCORT Live app, gain access to real-time alerts from a community of drivers like you—plus gain access to our Defender Database of red light and speed camera locations.
Where Can I Use a Radar Detector?
ESCORT products aim to protect you from the law, not break it. We design technology that gives you the confidence you need while driving. While radar detectors are prohibited by law in many provinces in Canada, radar detectors are currently not prohibited in the following provinces*; British Columbia, Alberta, and Saskatchewan.**

*Note This is the latest information we are aware of. Check your local laws before enabling shifting.

**Saskatchewan does prohibit radar and laser shifter/jammer systems in commercial vehicles.