---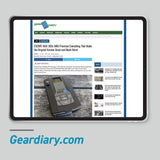 Gear Diary on ESCORT MAX 360c MKII
"Hey, you don't have to be Speed Racer to want to know exactly what's happening on the road around you, and using a solid radar detector like the ESCORT MAX 360c MKII is a great way to stay aware!"
"The ESCORT MAX 360c MKII takes things a step further with a new Blackfin DSP chip that offers faster response times and improves the original model's detection range by 50%."

AUTOMO Blog on ESCORT Redline 360c
"#1: Best of the Best: Escort Redline 360c"
"This radar detector is one of the most advanced on the market, equipped with Wi-Fi, GPS, and artificial intelligence (to better protect against false alerts)."
"Thanks to its triple-antenna design, the Redline 360c has twice the range as other detectors by Escort. True, it is one of the more expensive units, but Escort's TotalShield technology is also what sets it apart."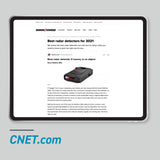 CNET on the ESCORT Redline360c
"This beast of a radar detector has no interest in aping the black box aesthetic of its top-of-the-line competition. Instead, it's stylish with interesting contours and it's a hefty bit of machinery to boot."
Autoblog on the ESCORT Redline 360c
"The new big kahuna packs a Blackfin DSP chip with 25 times more processing power than the formerly top-dog Redline EX, and 360-degree detection at twice the range across all bands and instant-on radar."
"The learning process is also automatic, obviating the need for the user to press a button."
"While Bluetooth-enabled and pairable with a smartphone, the Redline 360c can improve its knowledge in real time with updates via a 2.4-GHz Wi-Fi connection and communication with the cloud for community alerts through the Escort Live app."
Autoweek on the ESCORT MAX 360
"Escort is one of the premier brands of radar detector—you'll see a few on this list."
"The Max360 features directional alerts, a community of users, and five levels of filtering for quieting fake notifications."
BGR on the ESCORT MAX 3
"This boasts extended detection range and advanced filter capabilities."
"Hit the open roads this summer and bring along the ESCORT MAX 3 to make sure those roads stay clear."
"You and your family can have a great time on your next road trip and ESCORT will help your drive."
Car And Driver on the ESCORT Redline 360c
"...this is probably our favorite feature, the new Redline has a GPS engine, and it will autolearn false alerts along your normal commutes."
"Through advances in GPS accuracy, signal processing, and AI, the new Redline 360c is pretty quiet right out of the box."
"The detector also comes with access to Escort Live, which is a Waze-like crowd-sourcing app that pairs with the detector and essentially gives you access to a lot more radar detectors"
Digital Trends on the ESCORT MAX 360
"Why should you buy this: It's the most accurate and feature-packed radar detector available."
"Who's it for: Drivers who want the best ticket protection possible."
"It comes packed with nearly every feature available on a radar detector today, including dual antennas, directional arrows that point out threats, and smartphone compatibility to help you network with other speedsters in your area."
heavy. on the ESCORT MAX 360c
Pros:
"WiFi and Bluetooth enabled offers real-time traffic alerts and updates"
"Autolearning eliminates false alerts"
"Directional alerts"
Road And Track on the ESCORT Redline 360c
"The Redline 360c is one of the most expensive plug-and-play radar detectors on the market, and for good reason."
"It has three built-in antennas—two in the front and one in the back—as well as directional alerts, a stealth design to avoid being spotted by radar detector detectors (yes, they're real things), as well as built-in Wi-Fi connectivity."
The Drive on the ESCORT MAX 360
"What's better than the gift of fewer speeding tickets? The Escort Max 360 Radar Detector can help drivers slow down when police radar is detected ahead."
"It's both a solid radar detector and a great piece of smart technology."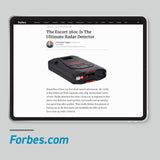 Forbes on the ESCORT Redline 360c
"...it not only picked up every threat that the other detectors missed, but got smarter in the process."
"The Escort's capability and advanced feature set are worth that money, and the unit will pay for itself if it helps the driver avoid just a couple of tickets."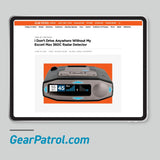 Gear Patrol on the ESCORT MAX 360c
"I almost never climb into a car I'm driving without my radar detector: the Escort Max 360c." 
"…it's the best radar detector on the market."
"…a machine with all the latest and greatest in tech."
AutoWeek Reader's Choice 2019 Top Pick
ESCORT: Best Radar detector
Escort earned the top spot among radar-detector brands, with a number of readers echoing Mitch A. from Texas, "Performance says it all. It works every time, all the time."