MAX 360 MKII
Make Every Drive Legendary
The Escort MAX 360 MKII can help make every drive legendary with many of the powerful features in our top-of-the-line radar detectors. Like the MAX 360c MKII, it features an all-new internal platform and more powerful components, providing 50% improved range and performance with the included Blackfin® DSP chip, advanced false alert filtering intelligence, and MRCT/MRCD camera detection.
Buy Now
MAX 360 MKII
Exceptional Range. 360° Awareness.
Discounts for Military, First Responders, Teachers and Students through
See Terms
MAKE EVERY DRIVE LEGENDARY
The Escort MAX 360 MKII is a high-performance radar and laser detector with exceptional range and 360° awareness. It features the upgraded M13 dual-antenna platform, Blackfin DSP chip, and outstanding false alert filtering software for a dramatically quieter ride. Drive smarter with the MAX 360 MKII and make every drive legendary.
LESS FALSE ALERTS
FOR A QUIETER RIDE
With all-new filtering software and more powerful processing, the MAX 360 MKII takes our legendary accuracy to a new level - you'll only alerts you when it's important, whether it's on a highway or a congested city street.
EASY TO SET UP,
EASY TO USE
Whether you've used radar detectors for decades or are a brand-new user, the MAX 360 MKII is easy to setup and use. Just attach the mount and detector, plug in the cable, and you're ready to start driving smarter.
CONNECTED COMMUNITY
FOR LIVE UPDATES
Connect to the Drive Smarter® community through our companion app and get live, shared alerts from other detectors and drivers across the country.
EXCEPTIONAL RANGE. 360° AWARENESS.
The Escort MAX 360 MKII provides high-performance detection with outstanding false alert filtering intelligence for a dramatically quieter ride. You'll get 50% improved detection range from the original MAX 360 and faster performance with the new Blackfin® DSP chip.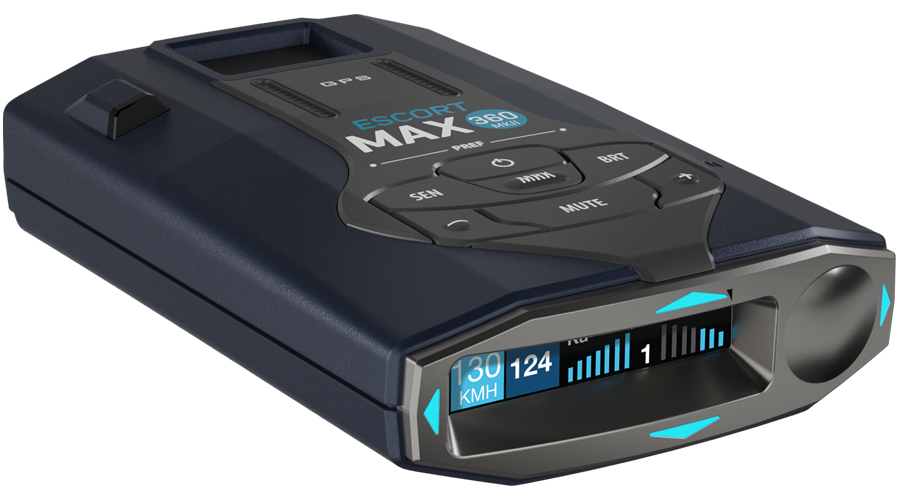 1
EXCEPTIONAL RANGE
The M13 platform with dual antennas provides 50% improved detection range and sensitivity
2
DRAMATICALLY QUIETER RIDE
Outstanding false alert filtering effectively reduces CAS, BSM, and other false radar signals
3
AUTOLEARN™ INTELLIGENCE
Intelligent GPS-based software learns your route and rejects repeated false alert locations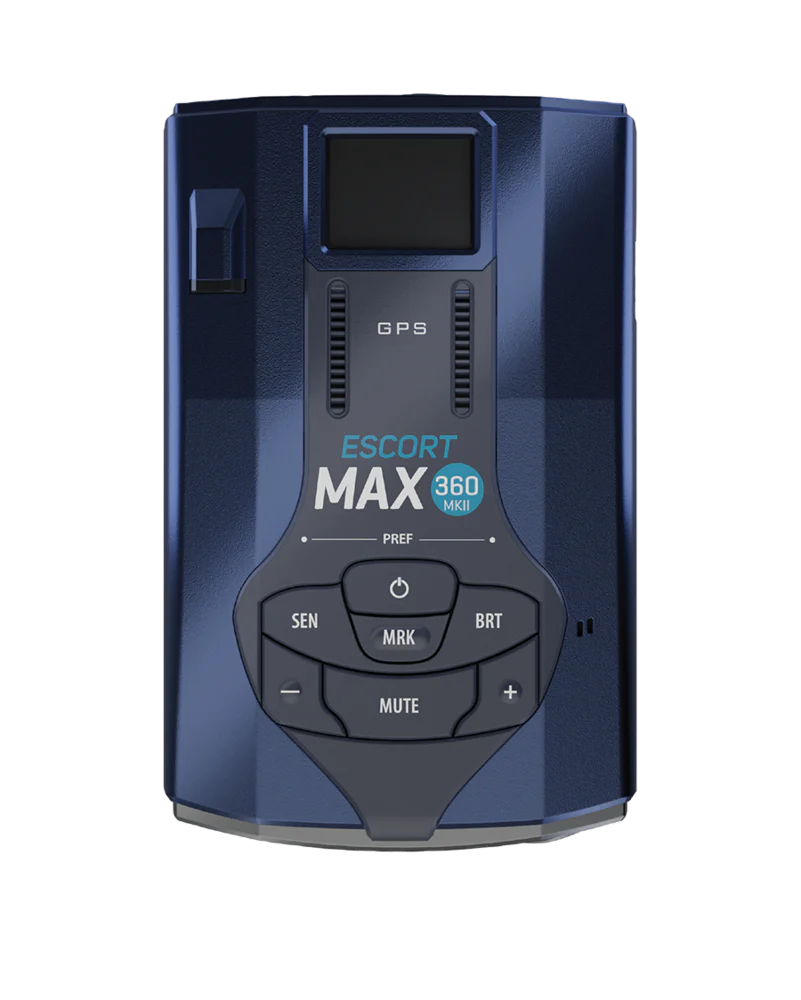 4
TRUE 360° AWARENESS
Directional arrows provide true 360° awareness to let you know where you need to pay attention
5
FASTER PERFORMANCE
Blackfin® DSP processes radar signals fast so you can react with plenty of time
6
SHARED NETWORK ALERTS
Get advance warning of laser and radar alerts from other connected detectors

M2 AND SHIFTER COMPATIBLE
Build a complete driver alert system with the M2 smart dash cam and laser shifters
VARIABLE SPEED SENSITIVITY
Automatically adjusts detector sensitivity based on your speed for smarter alerts
DEVICE SETTINGS MANAGEMENT
Easily adjust your features, alerts, and settings on any supported device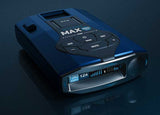 50% IMPROVED RANGE
Get exceptional radar detection range with all-new hardware inside the MAX 360 MKII detector, including dual antennas for 360° coverage. You'll enjoy 50% improved detection range vs. the original MAX 360.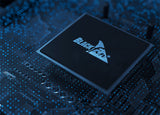 BLACKFIN® DSP
The same Blackfin® DSP chip that powers our flagship detectors also lives inside the MAX 360 MKII. Get the right alerts at the right time with faster performance powered by Digital Signal Processing.
Drive Smarter® App
Enhance your experience with the Drive Smarter® app. Download the app for either Android or iOS smartphones and connect with the Drive Smarter community to share and receive alerts from other Escort devices and drivers.
Shared network alerts
Get advance warning of shared laser and radar alerts from other connected detectors on our network
Device settings management
Easily adjust your features, notification alerts, and device settings on any supported detector or dash cam
Multi-device management
Easily control your compatible Escort detectors and dash cams from within Drive Smarter®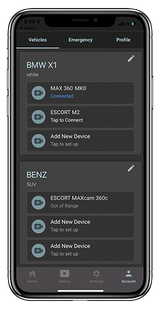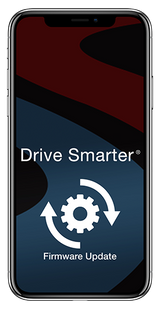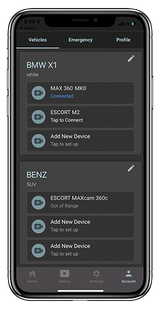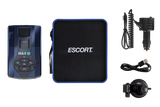 What's in the box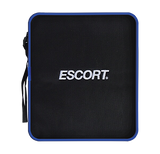 TRAVEL CASE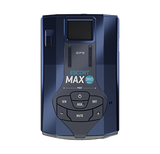 MAX 360 MKII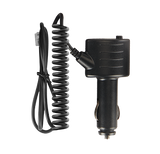 SMARTCORD USB WITH MUTE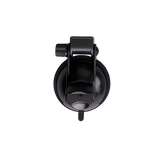 EZ MAG MOUNT
Which max model is right for me?
THIS PRODUCT

MAX 360 MKII

360° Detection with Bluetooth® Connectivity

MAXcam 360c

MAX 360c Performance with Integrated Dash Cam

MAX 360c MKII

360° Detection with Dual-Band Wi-Fi Connectivity

MAX 3

Simple and Powerful Radar & Laser Detection

The max family
MAXIMIZED DETECTION FOR THE ROAD AHEAD
The Escort MAX family of premium radar detectors and driver alert systems are engineered to offer high-performance detection and road awareness in a sleek and easy-to-use design.
Detector Tools Pro (Windows version compatible with Windows 7, 8, 10 and 11) (Mac version compatible with version 10.10+. Not compatible with any Max Ci series or iXCi remote systems)
Item # 0100024-6
OPERATING BANDS

X-band 10.525 GHz ± 25 MHz

K-band 24.150 GHz ± 100 MHz

Ka-band 34.700 GHz ± 1300 MHz

Laser 904nm, 33 MHz Bandwidth



RADAR RECEIVER/DETECTOR TYPE

Superheterodyne, Varactor-Tuned VCO

Scanning Frequency Discriminator

Digital Signal Processing (DSP)



LASER DETECTION

Quantum Limited Video Receiver
SENSITIVITY CONTROL

Highway, Auto, Auto No X, Auto Lo K



DISPLAY TYPE

Graphic Multi-Color OLED

Bar Graph

ExpertMeter

SpecDisplay

5 Levels of Brightness with Full Dark Mode



POWER REQUIREMENTS

12VDC, Negative Ground

Escort SmartCord USB Included



SIZE

1.38" H x 3.25" W x 5.15" L
  USER
PREFERENCES

User Mode: Advanced / Novice

Pilot: Scanning Bar / Full Word

Arrow Mode: Single / Multiple / Band

Display Color: Blue/Green/Red/Amber

Speed Display: On / Off

Cruise Alert: Off / 20 – 160 mph

Over Speed: Off / 20 – 160 mph

Over Speed Limit: Off / Spd Limit / 5 over / 10 over / 15 over /
20 over

Meter Mode: Standard/Standard FR1/Standard FR2/Spec/Spec
FR1/Spec FR2/Expert FR/Simple

Tones: Standard / Standard+ / Mild

AutoMute: Low / Med / High / Off

AutoLearn: On / Off

Units: English / Metric

Language: English / Spanish

Voice: On / Off

GPS Filter: On / Off

Auto Power: Off / 1-8 Hours

Bands: X/K/KN1-KN4/MTR CD/MTR CT/Ka/KaN1-KaN10/Ka-POP/Laser/TSR
K Notch: On / Off
Shifters:
Receive/Shift/Shift4/Shift6/Shift8/Shift10/Off

Markers: Other/RedLight/RedLight & Speed Cam/Speed Cam/Speed
Trap/Air Patrol

Clear Locations: Marked/Lockouts/Defender/Format

Wi-Fi: On / Off

Bluetooth: On / Off

Auto Update: Off/Database/Firmware/All

Wi-Fi Update: Firmware/Database
Interface: Mode 1/Mode 2
Please note: Works
with most vehicles. Some late model vehicles such as newer BMWs may have 12v
outlets with non-standard dimensions, preventing full insertion of the
SmartCord plug. Users with such vehicles may consider a Direct Wire kit or
third-party solution. For more information, HERE.
What is included with the MAX 360 MKII?
The MAX 360 MKII includes a soft-sided travel case, EZ Mag Mount windshield mount, 12-volt SmartCord® USB and Quick Start Guide. If you would like a more permanent installation for your MAX 360 MKII, check out the DirectWire SmartCord® or the more basic DirectWire kit for hardwired installations.
How do you mark a location?
To mark a particular location, press the "MRK" button. The display will read: "Mark?" Press the "MRK" button again to assign a label to it. There are four (4) labels: Red Light, Speed Camera, Speed Trap and Other. To scroll through the labels, simply press the volume (+) or (-) buttons until you reach the desired label. Once you've selected the label, press the "MRK" button again to confirm.
How do you block a false alert?
To lockout a false alert, (X, K or Laser only) press the mute button three (3) times, (either on the detector or the SmartCord®) during the alert. Pressing the mute button the first time will silence the audio. Pressing it a second time will generate a prompt on the display that will read: "Lockout?" Press it a third time to confirm that you want to lock this signal out by location and frequency. A "Stored" message will be displayed.
Is the 12V SmartCord required to power an ESCORT premium radar compatible with BMW models?
Yes, the SmartCord is compatible with your BMW, but might require a Standard Female Hella0(DIN) socket to Cigarette lighter type Socket adapter.